Vince Wynne - Music Director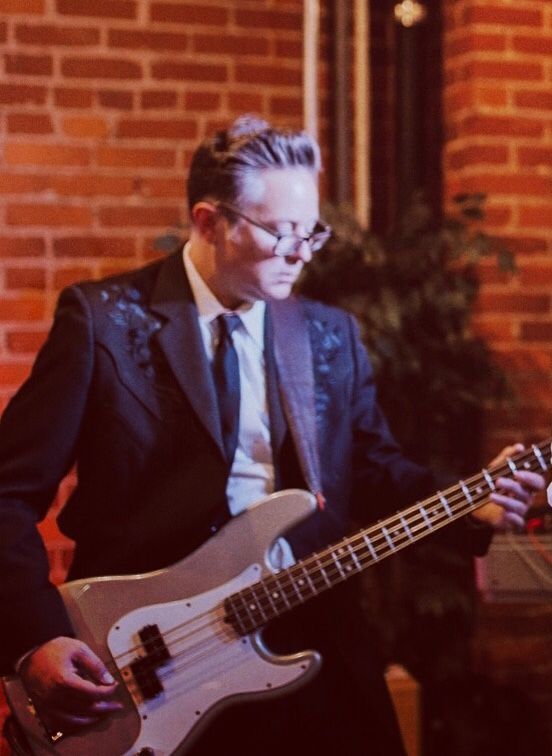 Hello friends,
My name is Vince Wynne, and I am the Music Director for Music City Rhythm Revue.  A little background about me:  I moved to Nashville in 1999 from Atlanta, GA, and I've called it home ever since.  I grew up on the Gulf coast and spent my early 20s playing the restaurants and beach bars all along the Ft Walton/Destin/Rosemary Beach/Panama City strip.  After spending the late 90's living in Atlanta where I witnessed the rise of a little known artist named John Mayer, I moved to Nashville.
Back then, Nashville still had a small-town feel.  All the clubs were genuine dive bars with very bad PA systems.  Yet somehow the musicians always sounded great, no matter what.  That's because they were great musicians.  In my 20 years living here in Music City, I have worked with a variety of bands and artists, as well as participated in numerous master recording sessions and endured long stints on the road as a side-man for on-the-verge artists.  In 2013, I decided that it was time to start a band that focused exclusively on private events, and that could deliver a high-level arena type show - and Music City Rhythm Revue was born.  
As the band leader and community liaison for the group, I promise to deliver not only a superior rock show on the big day, but also a consistently professional experience.  I will provide you with excellent communication leading up to your event.  I work very well with event coordinators, venue talent buyers, promoters, and of course - brides and grooms.  Your event must go off without a hitch.  By choosing Music City Rhythm Revue for your next event, you are choosing a group of Nashville-based professional musicians with decades of experience.  Give me a call, or send me an email.  I'm looking forward to serving you, and rocking your event!
Warmly,
Vince Wynne  
January 2, 2021: 
private event
Chattanooga, Tn
6:00pm - 11:00pm
january 16, 2021:
private event
greenville, sc
6:00pm - 11:00pm
February 13, 2021:

(canceled)
Private event
nashville, tn
6:00pm - 11:00pm
April 10, 2021:
private event
birmingham, al
6:00pm - 11:00PM
april 17, 2021: 
private event
chattanooga, tn
7:00pm - 11:00pm
April 24, 2021:
private event
lexington, ky
6:00pm - 11:00pm
June 5, 2021:
Private Event
nashville, tn
6:00pm - 11:00pm
June 6, 2021:
private event
nashville, tn
6:00pm - 11:00pm
June 19, 2021:
private event
cullman, al
6:00pm - 11:00pm
july 3, 2021: 
private event
nashville, tn
6:00pm - 11:00pm
august 14, 2021:
private event
nashville, tn
6:00pm - 11:00pm
august 20, 2021:
private event
chicago, il
6:00pm - 11:00pm
September 18, 2021:
private event
nashville, tn
6:00pm - 11:00pm
september 24, 2021: (canceled)
private event
nashville, tn
6:00pm - 11:00pm
September 25, 2021:

 (

canceled)
private event
lexington, ky
6:00pm - 11:00pm
October 2, 2021: (canceled)
private event
cashiers, nc
6:00pm - 11:00pm
november 6, 2021: 
private event
Gatlinburg, tn
5:00pm - 11:00pm
november 13, 2021:
private event
goshen, ky
6:00pm - 11:00pm
december 3, 2021: 
private event
greenwood, ms
6:00pm - 11:00pm
December 4, 2021:
private event
nashville, tn
6:00pm - 11:00pm
december 31, 2021: 
private event
london, ky
8:00pm - 1:00am
february 12, 2022:
private event
nashville, tn
6:00pm - 11:00pm
April 9, 2022:
private event
lexington, ky
6:00pm - 11:00pm
april 30, 2022: 
private event
lexington, ky
6:00pm - 11:00pm
May 21, 2022
PRIVATE EVENT
Nashville, TN
6:00pm - 11:00pm
June 11, 2022:
PRIVATE EVENT
Louisville, KY
6:00pm - 11:00pm
August 13, 2022: 
PRIVATE EVENT
Knoxville, TN
6:00pm - 11:00pm